Oval Glasses Frames
If you have the choice, go for oval!
Peer pressure among your friends may tempt you to buy round glasses. Maybe your trusted optician has such a strong influence on you that you leave the shop with a classic pair of round metal Ray-Ban glasses. But don't be a follower or "follow-shopper", show a little individuality and check out our whole range of oval frames. You won't regret it!
Oval prescription glasses have the advantage that they fit almost every face shape. Oval faces harmonise especially well with these frames. Only rimless glasses go equally as well with oval face shapes. In general, people with an oval shaped face have no problems finding glasses that fit, because anything can suit them. Spectacle wearers with a heart-shaped face also belong to the group of people who have an easy time finding new glasses.
Which brands offer round or oval glasses frames?
If "subtle" sounds good to you, then you will find what you are looking for at Calvin Klein. With the CK J20510, CK has a matching pair of glasses on offer in elegant, classic colours like blue or black with sophisticated detailing in gold. This small but fine metal plate in the temples stands out from the plastic frame and thus adds that certain something extra.
For round prescription glasses, Burberry is another good choice. The Burberry BE 2128 enjoys high popularity and achieves this with the same trick as Calvin Klein. While deep black dominates around the glass, the monotony is broken with the start of the temples. These adhere to the hinges namely in a shiny silver sheath that bears the engraved brand name. Burberry fans will also be pleased with two other variations in beautiful Havana shades.
Once you have decided on the frame colour, shape or design, you can get an impression of how the selected model might look on you here. You can also try on the various frames virtually by using your webcam or uploading a saved photo. Here you can check out the entire range of glasses among the different frame types.
If you've received your glasses and the shoe (or in this case, the frame) is still pinching, you're sure to find valuable tips and advice in our blog, covering topics such as: "What colour glasses go with my hair colour?" or "Can I still wear square glasses with a wide chin?". Our Master of Glasses also has quite a few tips in his repertoire on points such as "repairing oval frames or "glasses adjustment".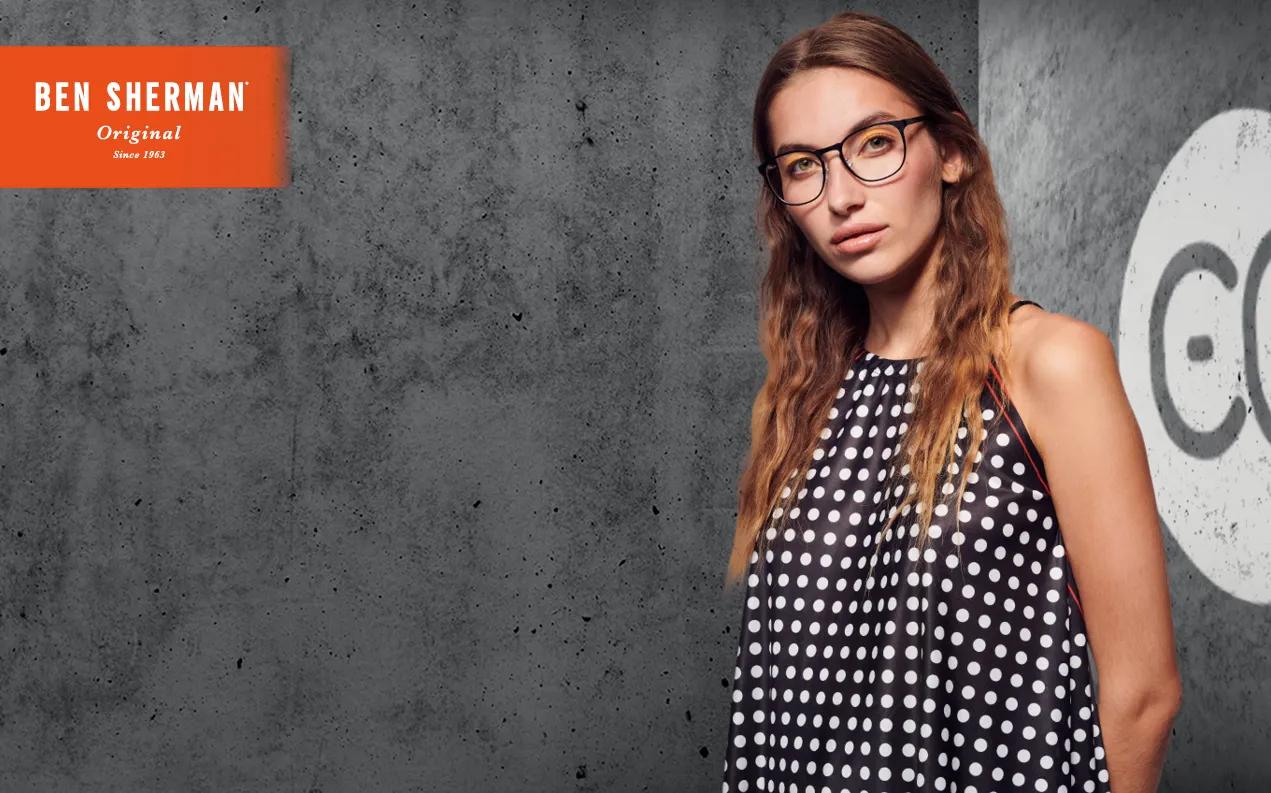 Virtual Fitting and the Digital Master Optician
Once you've browsed our extensive selection and decided on the shape and colour of your dream glasses, you can easily and casually try on many of our eyewear frames with just one click. Simply select the icon and your webcam will turn on to show your face on your screen with round glasses.
So the question is no longer if but when do you want to order your new glasses online. With us, you can do this around the clock. If, contrary to expectations, you don't like your new glasses, you can simply return them free of charge within 30 days. Only custom made lenses with prescription cannot be refunded, unless there are technical defects. If you have any questions, simply call customer service via our local telephone number, email or use our social media channels
Our Services
If you have any questions, such as "the right size", you can always come to us. We are always at your side with our combined expertise, whether in the digital or analogue world. If you happen to be based in Germany, feel free to drop by one of our stores. In addition, the free return shipping with money-back guarantee and the diverse payment methods make your purchase with us even easier.
About Us
If you want to buy glasses online at low prices, you've come to the right place! In our branded glasses online shop you will find a wide range of glasses for women and men in all colours and shapes. From vintage looks to modern titanium, you'll find it all. It goes without saying that each item is a genuine and brand new original. Second-hand products and copies without a logo have no place in our warehouse! Here, you are guaranteed to find only genuine fashion accessories.
As specialists in eyewear, we offer our fashion-loving customers even the highest-quality models at absolute bargain prices under the claim "SEE AND BE SEEN". Round and oval reading glasses can also be found in our in-house Glasses Sale. Here, a wide variety of models are available at a unique price. So what are you waiting for? Visit us in the extraordinary eyewear world of Edel-Optics and choose your dream pair of oval glasses.