Buy Jimmy Choo Glasses Frames Online
Elegant and Unique Eyewear
Lifestyle - no stylist

Louboutin, Jimmy Choo, that's on you
raps New York fashionista French Montana on the track No Stylist feat. Drake. What he means by this is obvious. Anyone who wears fashion or accessories by Louboutin or Jimmy Choo could be thought of as a stylist. But in the case of French and Drake, the style has nothing to do with a job in the fashion industry, but is simply pure lifestyle.
But why Jimmy Choo and not Saint Laurent or Fendi? Certainly other luxury brands appeal to rappers and other celebrities, but the Jimmy Choo brand is special. While the success of most designers is based on their education, the founding father Jimmy Choo Yeang Keat already had the talent in his blood. The Malaysian-born fashion designer practised his craft as a child. As the son of a shoemaking family, he tinkered with footwear even before he could walk in it. At the tender age of four, the boy's talent became clear, and seven years later he designed his first shoe.
Accordingly, the young designer's path lead to a career in the fashion world and ended in a fashion empire with 150 boutiques worldwide as well as shops in the most renowned department stores, which are located in the most exclusive shopping streets á la Avenue Montaigne in Paris or Via Condotti in Rome. There, customers wrestle every season not only for the new Jimmy Choo clothing collections, but also for the Jimmy Choo eyeglasses and Jimmy Choo sunglasses. The shoes of the British brand have been seen on the feet of various Hollywood stars since the nineties, but their eyewear is still almost an insider tip by comparison.
Among the fashion connoisseurs who have already received the insider tip are Jessica Alba and Kim Kardashian. Singer Rihanna wears her favourite model at the most important events and Paris Hilton is also "in love with my Jimmy Choo sunglasses". Even the British royal family appreciates the brand's clothes and accessories; Princess Diana was one of the most famous customers of the London-based fashion house. Today, fashion-loving women and men with many different style tastes come back to Jimmy Choo eyewear to add the final touch of elegance and haute-couture to their outfits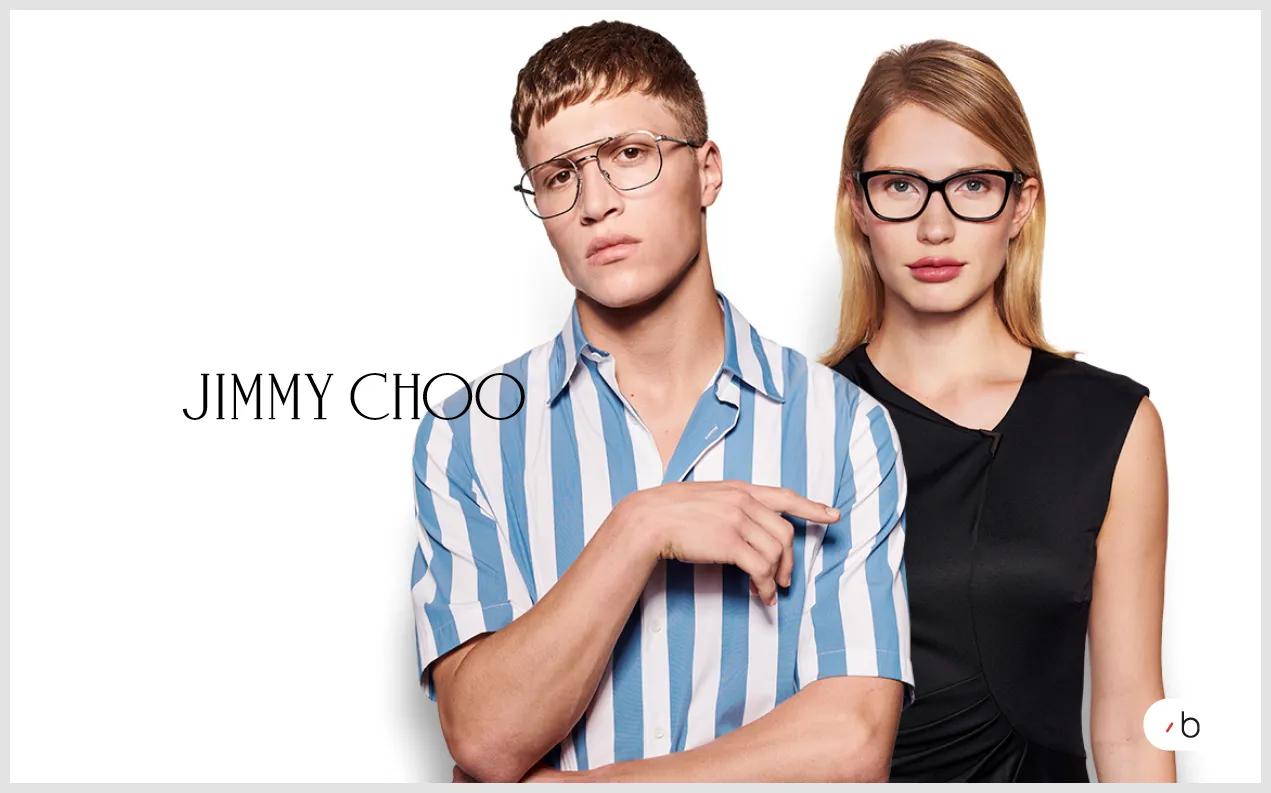 Glasses Designs by Jimmy Choo
It's not only the Jimmy Choo sunglasses that are particularly popular among both men and women, but also classic Jimmy Choo glasses. This is not least due to the fact that the frames are often decorated with jewels and thus sparkle in winter. Particularly sparkly is the Jimmy Choo JC 105 FA3, which in the black/glitter colourway is adorned with a number of small glitter stones, turning its temples almost into glow sticks.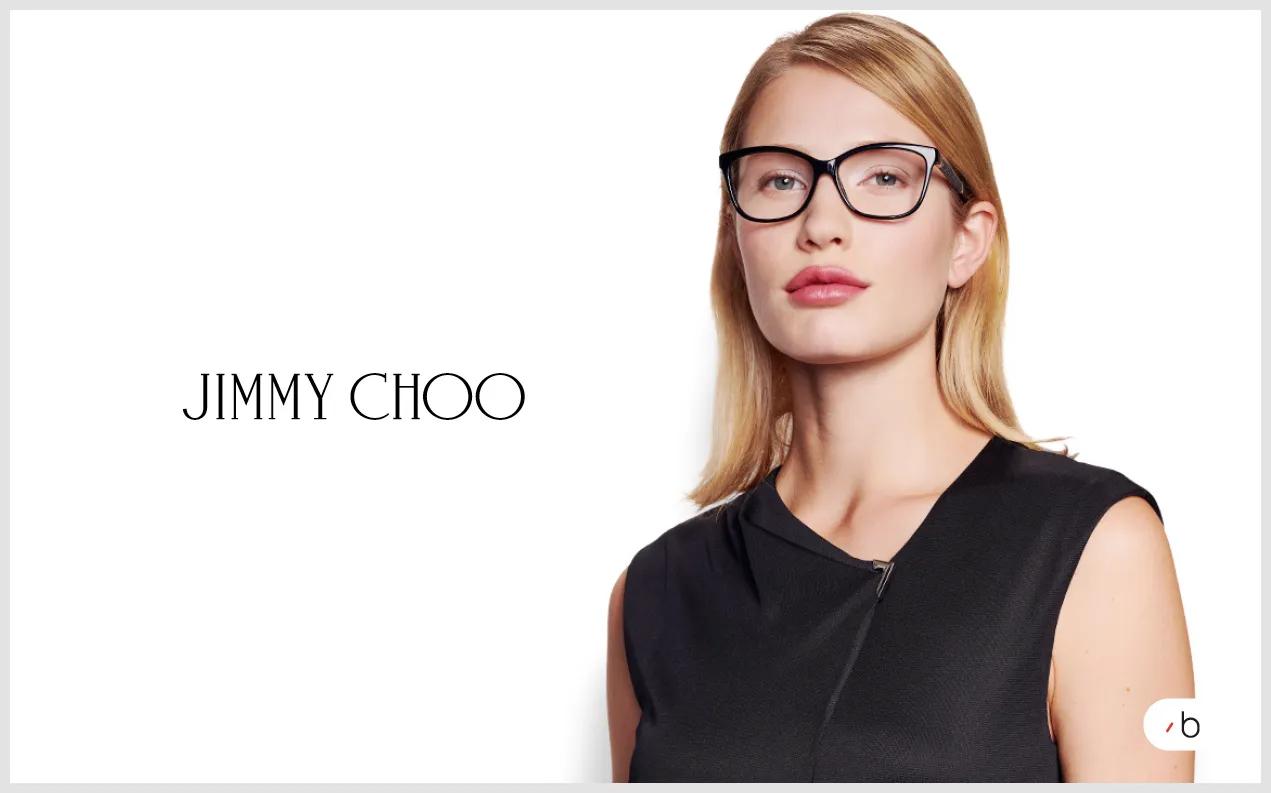 Which stunning pair of Jimmy Choos goes with my outfit?
If you're asking yourself this question, first of all think about your wardrobe and decide if you are indeed the elegant glitter & glamour type. If this is the case perhaps you'd prefer a shiny metal frame for your glasses. Popular metal frames include the square Jimmy Choo glasses and the round Jimmy Choo glasses . The Jimmy Choo panto glasses are also on the rise at the moment.
Once you've decided on the design, the only question left is the colour. So you don't overdo it, classic colours such as black, grey or blue are a good choice when combined with glittering gems. If you prefer patterned colours instead of single colour variations, we have the multicoloured Jimmy Choo glasses on offer for you, which is more daring in terms of colour, but still chic.
If you have decided on a colouring but are not sure whether your favourite matches your face shape, you can learn more on which glasses suit your face shape here. You can also try on the various frame shapes by Jimmy Choo with our 3D Virtual Try-On by using your webcam or uploading a saved photo. Speed up your search by using the filter on the left of the page and filtering the entire range of Jimmy Choo according to frame types.
If you have already received your prescription glasses and they don't fit quite right, you can find valuable tips and advice in our blog, our "Master of Glasses" also has a whole host of tips on points such as "Repairing frames" or "Adjustment".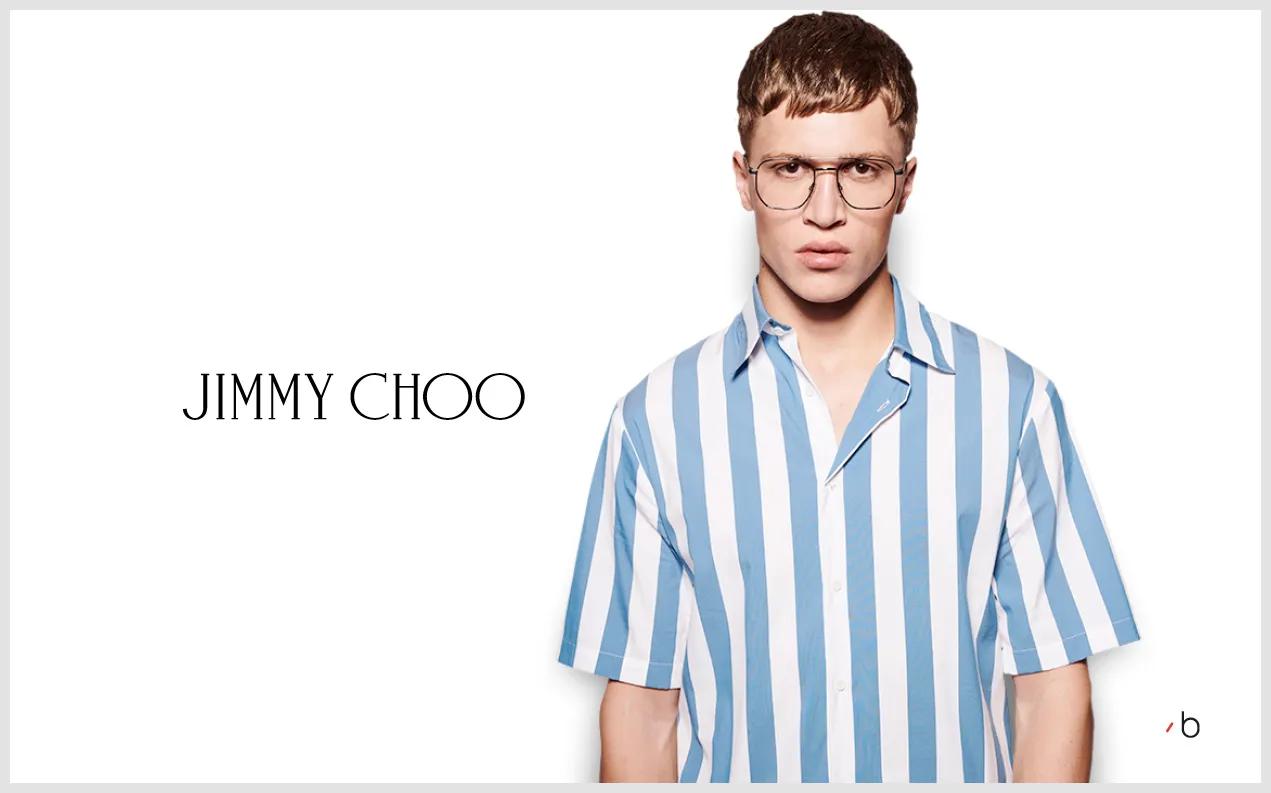 Our Services
If you have any questions while buying eyeglasses, such as how to choose "the right glasses size", you can always contact us. We are always happy to help.
If you want to order prescription lenses or blue-light filtering lenses with your eyeglass frame, click on the button "Order with prescription" and you will be taken through to our digital opticians form. You can also customise your lenses with special features such as anti-reflective coating. Of course, you can also order non-prescription Jimmy Choo glasses simply by clicking on the normal order button and your glasses will automatically be delivered with window lenses.
Furthermore, the free delivery and free returns with order tracking and money-back guarantee as well as the various payment methods make shopping with us easy. Since Jimmy Choo is one of our designer eyeglasses Boutique Brands, you are guaranteed to receive your order tomorrow if you order by 6 pm today. In addition to free shipping via express delivery, we also add an eyeshaker so that your designer specs always shine.
About Us
If you want to buy Jimmy Choo designer glasses online at low prices, you've come to the right place. In our branded glasses online shop you will find all the latest eyewear collections including Jimmy Choo women's glasses and men's glasses, all with a cleaning cloth and case included in the price. It goes without saying that each pair is a brand new original. Used products and fakes with the words "Jimmy Schuh" or "Jenny Choo" have no place in our warehouse!
As eyewear specialists for fashion-conscious customers, we offer even the highest quality frames at absolute bargain prices with our motto "SEE AND BE SEEN". Also reduced eyeglasses and products from our in-house glasses sale are available from us at low prices. Of course, this does not only apply to Jimmy Choo, but also to other top brands like Gucci or market leader Ray-Ban. So what are you waiting for? Visit us in the extraordinary world of eyewear at Edel-Optics and treat yourself to a piece of glamorous lifestyle with Jimmy Choo designer glasses.