Porsche Design Sunglasses
The Spark Plug Among Sunglasses
Fast cars, pure horsepower and sporty design are now just some of the characteristics that the world associates with the Porsche brand. But away from their main segment, the Stuttgart-based company not only shines in the high-revving business, but also proves what innovation should look like in today's world every day. Based on the unmistakable curves of the car models, Porsche Design creates trendy sunglasses that stand out due to their lightness and flexibility.
Optical Eye-Catchers in Every Respect!
Anyone who has bought Porsche Design sunglasses owns high-quality model that radiates timeless elegance and absolute uniqueness among women and men alike.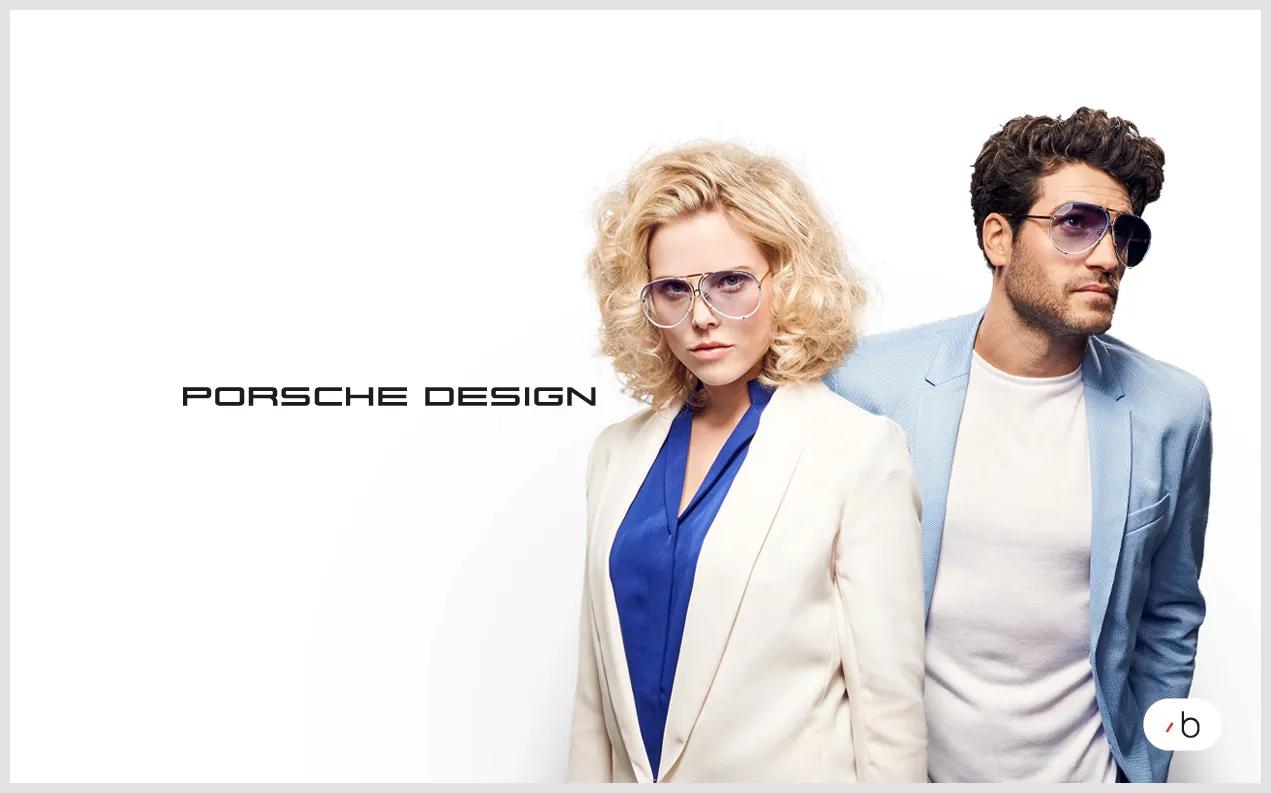 History of Porsche Design
Behind the Porsche Design Brand is a truly turbulent history that began in 1972 as a direct reaction to the systematic booting out of all Porsche family members as decision-makers at the Swabian sports car and engine manufacturer. Founder Ferdinand Alexander Porsche, son of Ferry Porsche, grandson of Ferdinand Porsche and cousin of Ferdinand Piëch, initially set up the early structures in his native Baden-Württemberg before the label set off in 1974 to settle at the then brand new company headquarters in Zell am See, Austria.
This was also the beginning of the company's triumphal march. They made a name for themselves with watches, cases, ** briefcases** and their own leather clothing and sportswear collections. The first breakthrough in the sunglasses market came as early as 1978 with the introduction of the Porsche Design sunglasses P8478, which featured an intelligent Porsche Design sunglasses interchangeable lens mechanism. This caused a sensation around the globe and sent shockwaves through the sunglasses industry. In this model, the drop-shaped lenses can be quickly exchanged with Porsche Design sunglasses interchangeable lenses thanks to the Porsche Design sunglasses quick-release fastener to suit different light conditions or to give the wearer a completely new look.
In the following years, the label established itself in the competitive markets in its core segments to such an extent that its success was no longer hidden from other companies and competitors and Porsche Design was now playing in the concert of the greats. Nevertheless, against the background of this illustrious history, it is and remains a small wonder that F.A. Porsche AG sold shares in its previously independent designer label to a Porsche subsidiary in 2003.
However, one can speculate whether Porsche had not perhaps always worked with its life's work to bring what was probably the most convoluted chapter in the brand's company history to a conciliatory conclusion, in order to finally close the circle in the form of an economic connection.
How to Spot Fake Porsche Design Sunglasses?
Due to the popularity of the products, there have been countless attempts to sell imitation Porsche Design sunglasses. As Oscar Wilde once wrote: "Imitation is the sincerest form of flattery." It's not only the classic Porsche Design Sunglasses models that are extremely popular with counterfeiters. The original Porsche Design Sunglasses, which are produced by Rodenstock, nevertheless differ so fundamentally in terms of materials and workmanship from the Porsche Design Sunglasses Copies that genuine Porsche Design Sunglasses stick out like a sore thumb compared to Porsche Design Sunglasses Replica.
In addition to the obvious differences that set Porsche Design sunglasses quality apart from renowned competitors such as Tom Ford, Ray-Ban or Dolce & Gabbana, the Porsche Design sunglasses fake also literally see no sun. To be on the safe side, however, make sure your Porsche Design sunglasses models come in a Porsche Design sunglasses box including a Porsche Design sunglasses case and Porsche Design sunglasses cloth to put a stop to any hint of a Porsche Design sunglasses copy before they are even put on. This allows you to enjoy the full range of the Porsche Design sunglasses experience without any worries.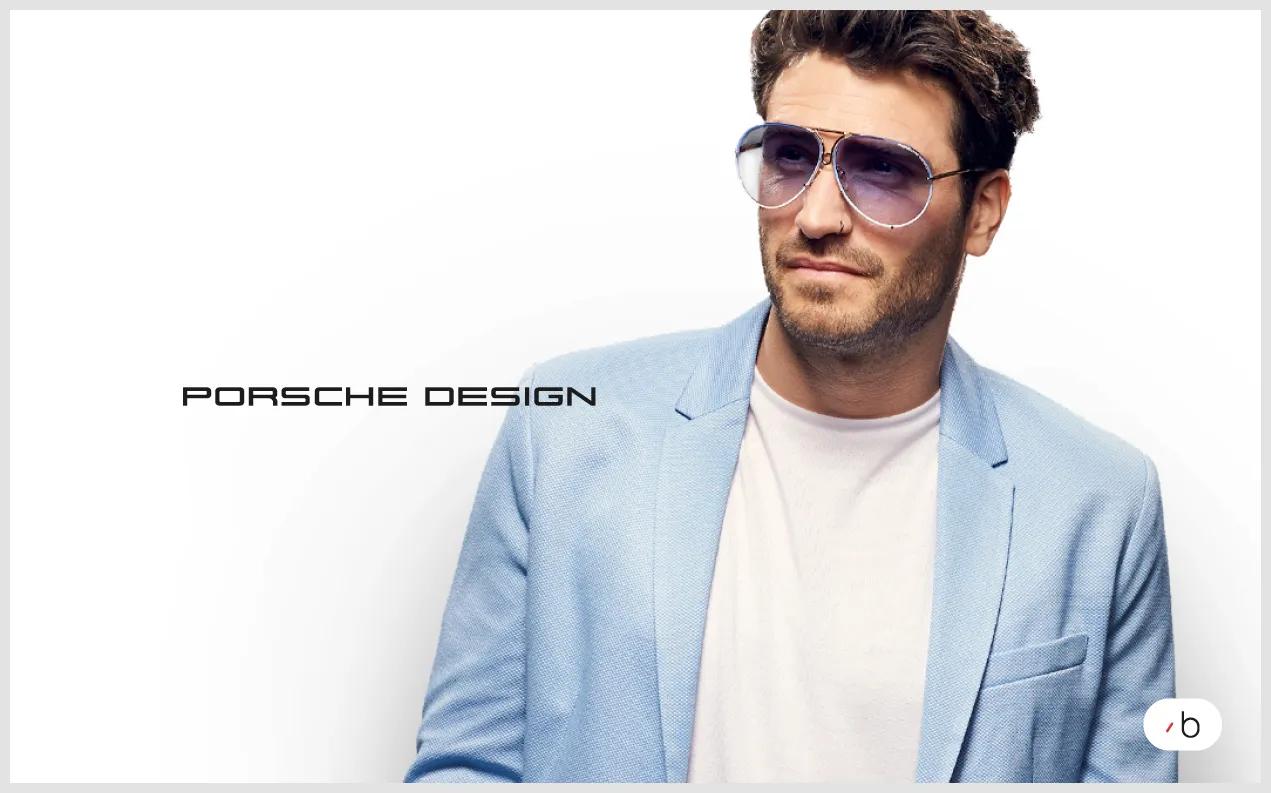 Sunglasses by Porsche Design - Constant Companion of the Stars
Absolute connoisseurs of the brand also include some of the biggest and hottest stars from Hollywood and the sports and music scene. After Yoko Ono catapulted the Porsche Design sunglasses P8479 with the frameless mono lens made of beta titanium into the top ranks of iconic sunglasses through various snapshots on LP and music covers, various stars from then until today have also enjoyed wearing them.
Alongside_Black Sabbath_, Axl Rose from Guns N'Roses, the late world star Prince, Sharon Stone, Jennifer Lopez, Al Pacino as Toni Montana in Scarface or Eddie Murphy in Beverly Hills Cop belong to the "older" representatives, while stars of more recent history such as Beyoncé, Lady Gaga, Kylie Jenner, Kris Jenner, Kim Kardashian, Khloé Kardashian, Rick Ross, Kanye West, Usher, Will. i.am, David Beckham, Blake Lively, Amber Rose or the German supermodel Tony Garn are among the brand's celebrity fans.
Porsche Design Sunglasses Models
After the early successes, the Porsche Design sunglasses designers even went one step further and presented their version of foldable Porsche Design sunglasses. The Porsche Design sunglasses P8480 are the first Porsche Design sunglasses to be foldable. Formed from titanium, Porsche Design aviator-style sunglasses at the time could be folded to six by six centimetres in just a few uncomplicated steps, yet remained lightweight and corrosion-resistant due to the material.
Similarly revolutionary in 2018 was the introduction of the Porsche Design sunglasses P8418 as the first interchangeable lens sunglasses with self-fixing lenses. But the Porsche Design sunglasses of the new generation, such as those creations from the Porsche Design Sunglasses Collection 2015, Porsche Design Sunglasses Collection 2016, Porsche Design Sunglasses Collection 2017 or Porsche Design Sunglasses Collection 2018 also have a lot to offer.
In the Porsche Design Collection 2017 and Porsche Design Collection 2018, the Porsche Design Sunglasses P8478 once again stand out among countless fashionable frames. The unique Frame-less Porsche Design Aviator sunglasses are convincing Porsche Design sunglasses for men that every self-respecting sunglass lover simply cannot afford to pass by.
The Porsche Design Sunglasses P8508 is in the same vein. The Porsche Design Sunglasses Unisex model in the Porsche Design Sunglasses Pilot version appeals to both sexes and is designed as Porsche Design Sunglasses for Ladies as well as Porsche Design Sunglasses for Men.
Made especially for gentlemen, the Porsche Design Sunglasses P8531 is truly a small masterpiece of engineering. Minimalism paired with compromising lines makes the frameless frame appear in a very special light. Added to this is the Porsche Design sunglasses UV protection, which guarantees your eyes 100% shielding from harmful sun rays.
The Porsche Design Sunglasses P8634 can be summed up in one word: fashion statement. Without frills, the model combines high-quality workmanship with authentic materials. We have two different sizes of the plastic glasses in full rim design in the Porsche Design sunglasses range.
Frameless in the Rectangle shape, the Porsche Design Sunglasses P8509 always cause a stir everywhere. Four different colour combinations leave enough room for individuality, which can only be found in this form at the company founded by F.A. Porsche - simply and simply an accessory in a class of its own!
Do you need a pair of sunglasses for a day at the beach, an extended window shopping trip or your morning commute to work? Then it's hard to get past the Porsche Design Sunglasses P8566.
Iconic models as far as the eye can see. How about Porsche Design Sunglasses Square. The Porsche Design Sunglasses P8678 had everything this traditional titanium frame shape needed. What's more, the model from the Porsche Design Sunglasses Collection 2016 has a look that never looks out of place at a soiree, gala dinner or club.
The Porsche Design Sunglasses P8541 also exude extra class. The men's sunglasses know how to cleverly set the scene and are excellently suited for round and oval faces. The elegant titanium frame, with its significantly lower weight, ensures the incomparable Porsche comfort, which, like the engine noise of a Porsche 911, can hardly be put into words.
The Porsche Design Sunglasses P8565 are also among the absolute box office hits in the Porsche Design sunglasses range. The glasses are based on the classic Square shape without forgetting precisely those points and aspects that make Porsche so unmistakable.
Round sunglasses](b/klassiker-runde-brillen/) are once again fully in line with the Porsche Design sunglasses trend this year. The Porsche Design sunglasses P8631 fit seamlessly into the group and also bring their very own style to the interpretation of a frame shape that has become indispensable in the wide world of eyewear.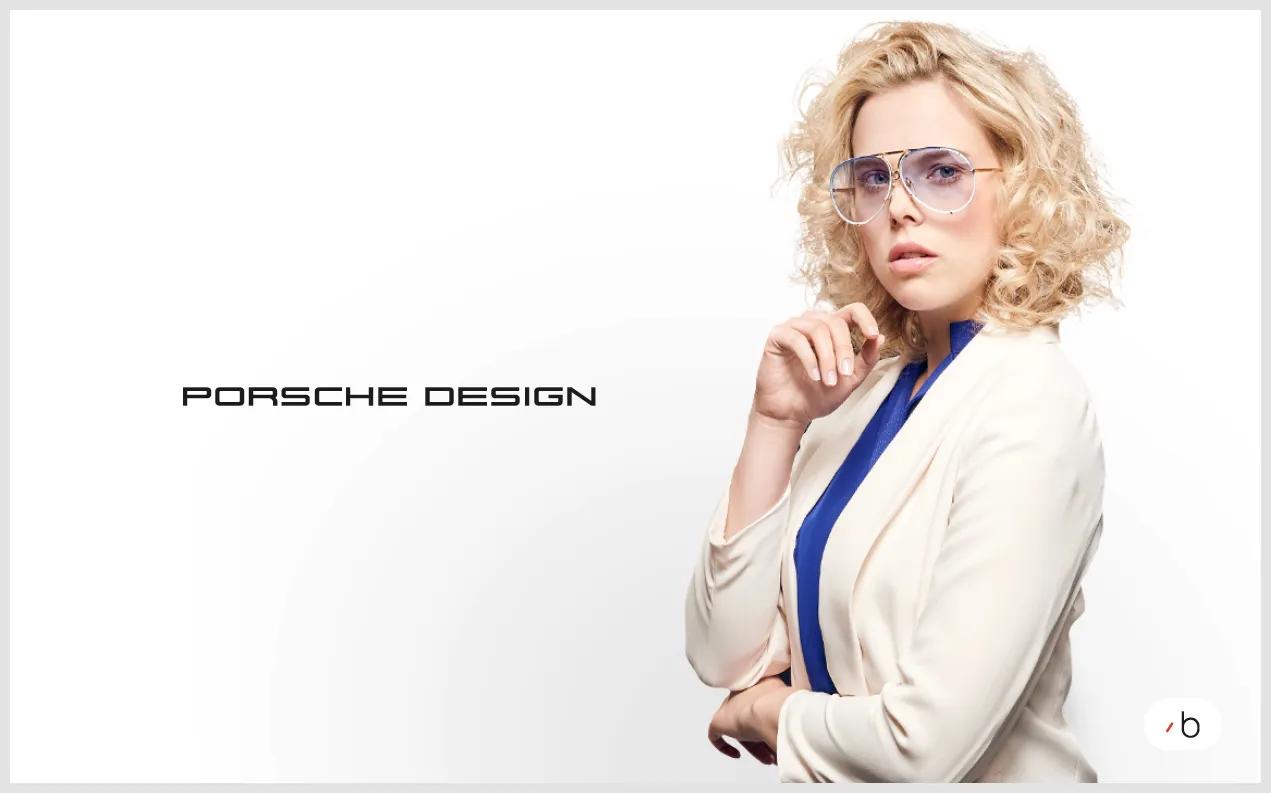 The Devil is in the Detail
All products from Porsche Design Eyewear are manufactured with the highest standards of quality. Thanks to the polycarbonate material, the lenses are both scratch-resistant and shatterproof. Of course, all sunglasses are also equipped with hundred percent UV protection, which prevents harmful sun rays from reaching your sensitive eyes. You can also choose the degree of darkening you want your lenses to have.
Do you need Porsche Design sunglasses with prescription? That's no problem either, because you can have your lenses customised.
The lightweight material titanium, which is used in many frames, ensures pleasant wearing comfort without sacrificing stability. Temples made of polyamide or stainless steel emphasise these slim lines. Foldable sunglasses are back in fashion, which is reflected not least in the popularity of the successors to the sunglasses classic from 1980. That's why the Swabians don't let themselves down with the Porsche Design Sunglasses P8592, for example, because the small marvels of technology fit in every trouser pocket to save space.
Which glasses suit me?
If you're looking for Porsche Design sunglasses, look no further. We've got you covered with the full range of what the luxury label has to offer. How about the Porsche Design sunglasses in black with tinted lenses (Porsche Design P8644, Porsche Design P8650), which is hard to beat in terms of style. No other brand is able to underline its brand with fashionable colours in such a way. From the Porsche Design sunglasses in grey (Porsche Design P8573, Porsche Design P8542) to the Porsche Design sunglasses in red (Porsche Design P8654) and the Porsche Design sunglasses in pink (Porsche Design P8588) to the Porsche Design sunglasses in gold (Porsche Design P8617, Porsche Design P8638) and the Porsche Design sunglasses in silver (Porsche Design P8629, Porsche Design P8579) we have everything your heart desires.
Of course we also have the classics like the Porsche Design sunglasses white (P8599) and the Porsche Design sunglasses in black (P8651, P8647). To find the right Porsche Design sunglasses model, try them on online, where you can try on your model directly.
Once you have made your choice, the Digital Master of Optics will help you with Porsche Design sunglasses with prescription and of course with finding the right lenses. The design and lens colour you choose, whether polarised Porsche Design sunglasses, mirrored, photochromatic or self-tinting, depends entirely on your taste. After all, when it comes to buying glasses: everything depends on your own preferences!
Once you have discovered your favourite model, you can directly order the Porsche Design sunglasses online. In addition, the model can be returned easily and free of charge if you should change your mind. Only custom-made lenses for Porsche Design sunglasses with prescription cannot be refunded, unless there are technical defects. If you have any questions, simply call our customer support via the local telephone number or contact our staff directly in one of our stores.
Services
Since everyone has a uniqueface shape with different features, you should always try on several models before making a final decision. You don't even need to go to the front door to do this, but can do everything from the comfort of your own couch thanks to the online try-on. The appropriate filter settings (brand or shape) also help you find your glasses. Do you want to combine your frame with prescription lenses? Our Digital Master Optician is at your disposal. If you can't decide between different lenses, simply choose a model with interchangeable lenses. This way you remain flexible, without any loss in quality or design.
If you have any questions while buying glasses, you can always contact us. We are always happy to help. In addition, the free return shipping and the diverse payment methods make your shopping easier. This makes browsing a real pleasure.
Because Porsche Design is one of our premium Boutique Brands, you're guaranteed to get this brand's sunglasses and eyewear delivered tomorrow if you order by 6pm today. Plus, in addition to free express shipping, we'll throw in an eyeshaker to keep your brand new glasses shining.
About Us
If you want to buy Porsche Design sunglasses online cheap, you've come to the right place. We don't exclusively sell Porsche Design Sunglasses Online Shop, but have all the well-known brands from Michael Kors and Carrera, to Gucci and Emporio Armani, to Prada and Versace in the repertoire and all that at recommended retail price.
Apart from our already low prices, you can not only get a Porsche Design sunglasses discount in the sales section of our Online Shop, but also a discount on other models that are available across the entire product range.
As eyewear specialists for fashion-conscious customers, we offer only the highest quality models at absolute bargain prices under the motto "SEE AND BE SEEN". Even reduced Porsche Design sunglasses are among them. Take a look online now or let yourself be enchanted by the extraordinary Edel-Optics world on site.