VOOY Glasses
VISION OF THE OTHER YOU
New situations require new looks. This is the motto that Edel-Optics works and lives by. So it was only logical to start our own brand of glasses to represent a wide range of varied looks. VOOY stands for Vision Of The Other You and calls for a new approach to glasses. Because today, glasses are much more than the once unloved aid to vision. They are now becoming everyone's favourite fashion accessory and we believe it should only be easier for this to happen.
VOOY's vision is not only an idea but also a pragmatic mission. We are inspired by today's fashion weeks, where it's not just clothing but also eyewear that counts. New looks are continuously gracing the catwalk and giving a preview of the trends for the coming season. The glasses that adorn the beautiful faces of models are as varied as the outfits worn. And it is precisely the mission of VOOY to extend the fashions of the catwalk to the pavements of our cities.
Tie off, glasses off, sneakers on, glasses on! While you might not need a walk-in-wardrobe, it's fair to say even Mr Bean has a few alternatives up his sleeve for different occasions. And you certainly don't turn up at an interview with your warn-out festival boots. VOOY transfers this way of thinking to sunglasses and prescription glasses. At a family dinner, you might want to show off your responsible side, so why not put on an intelligent-looking pair of retro style glasses? But on a night-out, perhaps you want something a little more eye-catching, so how about a sparkly glasses frame? Whatever you prefer, no problem, because VOOY offers all shapes and colours - from gold through to camouflage we have every colour you need to complete your desired look.
Why VOOY?
VOOY offers you an eyewear duo pack so that you're always well prepared. Whether you want to loosen up your style after work, spontaneously switch from casual to smart, or entirely renew your look. When creating your own duo pack you have seemingly endless combinations since you can choose from the entire VOOY range. Choose which prescription glasses or sunglasses are an absolute must for your wardrobe, so you can perfectly round off your situation-specific looks or add the icing on the cake of your outfit.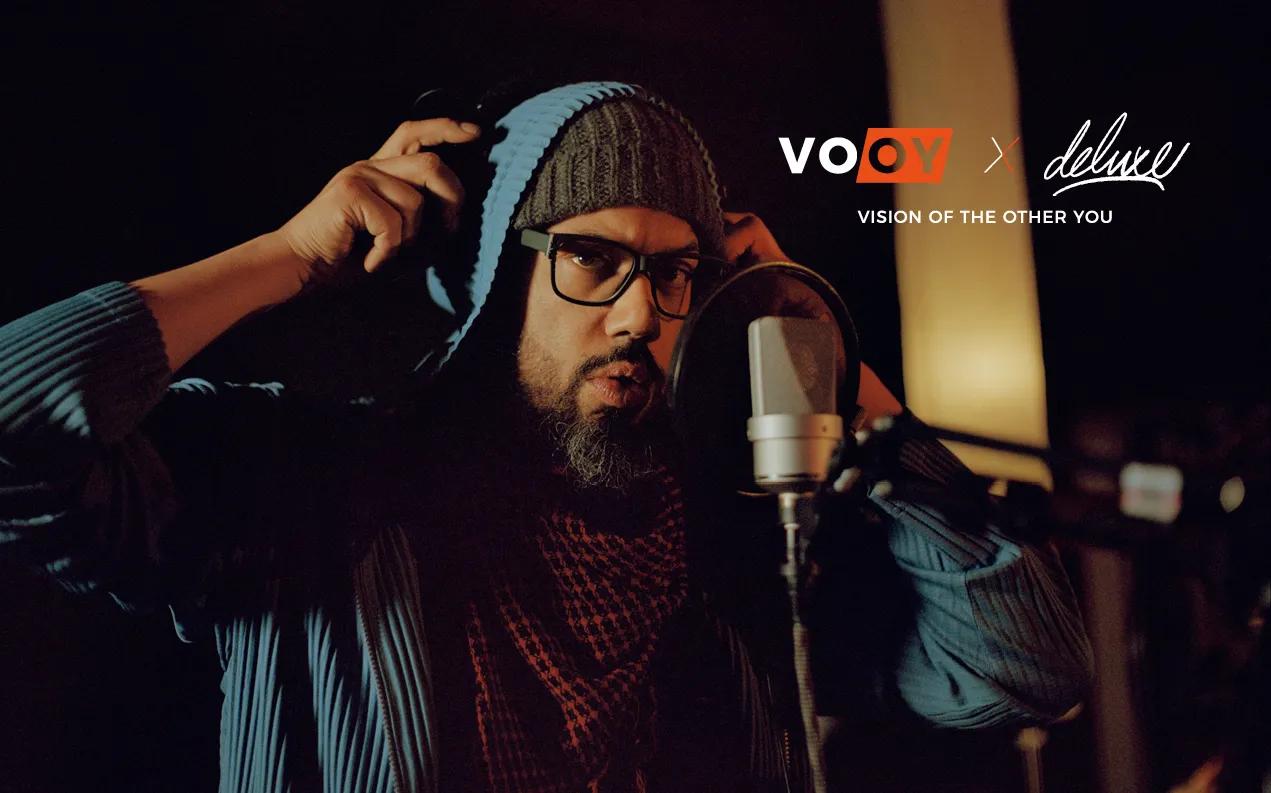 VOOY Deluxe
We wanted to add a unique touch of coolness and personality to our range, so we collaborated with a Hamburg-based creative artist to make an exclusive collection for VOOY. Right from the start of the design process, we brought in rapper Samy Deluxe, known as a multi-talent in the German hip hop scene with his own personal style. With him on board, the first VOOY collection has been enriched by a truly creative spirit and has resulted in a unique glasses and sunglasses range. The four unisex models from the collaboration VOOY x Deluxe are available in four different colours. Each model's name is inspired by the rap scene: FREESTYLE, STUDIO SESSION, DAY OFF, SHOWTIME!
FREESTYLE
Creativity without rules and spontaneous expression without limits - that's freestyle. These VOOY glasses not only live the free spirit, but also rub off on their wearer. That's why the VOOY Deluxe FREESTYLE is the perfect accessory if you refuse to conform to dress-codes and want to give your style free rein.
STUDIO SESSION
For Samy Deluxe, studio sessions are just one of many ways to pass the time. The rapper is just as happy on stage or in front of the concept wall as he is in the recording booth. Indeed, the vibes are always the same. And to get into the right mood, the seasoned hip hopper often wears the VOOY Deluxe STUDIO SESSION. These round glasses are a universal style and so on-trend that they fit everybody's taste. Begin your session as soon as you want!
DAY OFF
Have a break, have a DAY OFF! This model is perfect for you if you want to hit the off-switch and just chill. Put on your pair of VOOY Deluxe DAY OFF glasses and go straight into chill mode. With large lenses, this pair of glasses gives you both broad vision and on-trend style. The browline frame is made to impress with its classic form and a touch of modernity that makes it stand out from the crowd.
SHOWTIME
Ready, set, go! Not everyone likes to be in the limelight, but if you're a spotlight hog, these VOOY Deluxe glasses are your showpiece. The dynamic design with elaborate engravings ensures that you stand out from the crowd anywhere you go. Especially with its daring colour combination of camouflage and light blue, the VOOY Deluxe SHOWTIME is best suited to bold personalities who want to attract everyone's attention.
Order VOOY Glasses Online
To find your perfect pair of VOOY glasses, you can use the 3D Online Fitting. You just need a camera on your laptop of phone and after clicking the "Online Fitting" icon below the product image, the glasses will be projected on top of your video image! Once you have found out which shape glasses suit your face shape, the master digital optician will support you in the process of choosing and ordering your VOOY glasses with prescription lenses. Which design and which glasses you choose depends entirely on your taste. Whether or not you need prescription lenses, we also recommend lenses with blue light filter, especially if you have a computer-intensive job.
Once you have found your favourite model, you can order your VOOY prescription glasses online at a low cost. Should you happen to not like your glasses when they arrive, you can send them back free of charge with our free returns within 30 days system. Only VOOY Glasses with diopters or individually manufactured lenses cannot be reimbursed, unless there are technical defects. If you have any questions, please contact our Customer Support by telephone via the local telephone number or social media.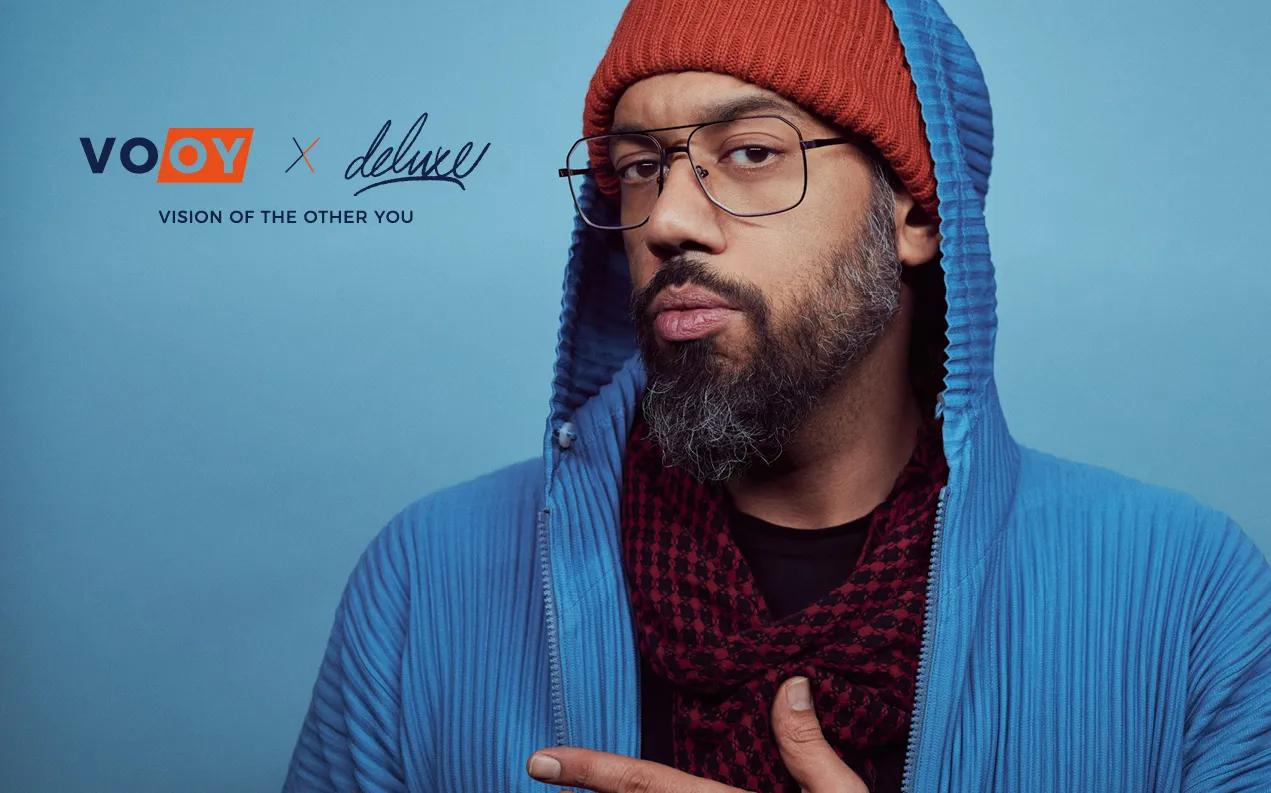 Services
At Edel-Optics you can buy exclusive glasses from VOOY at value prices online. You can reach us by e-mail or by calling the local landline number +442034995895 and we will do our best to answer all your questions. We'll help you with the ordering process, handling of returns or any other questions you may want to ask. If you have a last-minute "glasses emergency" and need the right accessory for the beach party at the weekend, you can have your order in your hands the very next day via Express Delivery. Besides the common payment methods we also offer you a convenient order on account.
We Specialise in Glasses for Fashion-Lovers
At Edel-Optics, we are all about fashion and our motto SEE AND BE SEEN truly comes from the heart. Our goal is to provide easy access to high quality prescription glasses and sunglasses to as many people as possible. You can also find many interesting topics such as current summer trends on our Blog as well as general eyewear advice on our Master of Glasses page. Here, you can also learn how to properly clean or repair your glasses. Find us on Facebook or Instagram to stay up to date with the latest trends and make the most of any special offers, competitions or vouchers we have available. For reduced price glasses, don't forget to check out our Glasses Sale, including eyewear by Samy Deluxe and others such as Jérôme Boateng, Guido Maria Kretschmer, Sylvie Meis and Dieter Bohlen. Just drop by and find out what these celebrities and other brands have to offer!