VOOY Glasses and Sunglasses
VISION OF THE OTHER YOU
Who are you? Only you can decide! Fully empowered with our own new brand, Edel-Optics celebrates diversity and variety of style with its new VOOY collection. Just as each individual has many different sides to their personality, we believe you should have many different options to express this, and not least through fashion. We're not talking about putting on a false persona for others, but rather being authentic, not confining ourselves to just one aspect of our personality and giving ourselves permission to explore and reinvent our identity!
In any case, this is something we do almost unconsciously - every day we slip into different roles depending on the situation. Whether we're at a family dinner, in a business meeting or chilling with friends, the side of our personality that we show is different each time. We also communicate this through our outfits. Hoodies and chucks, for example, are different to a shirt and tie both in terms of dress codes and also in the way the outfits represent different aspects of our mood and personality at the time.
And of course, eyewear can communicate a certain look very effectively. Simply wearing sunglasses is sometimes a statement in itself, depending on the environment and setting. Your outfit can be toned up with an extravagant frame or toned down with a classic, subtle frame. Depending on the context, seeing someone else wearing sunglasses or glasses can also contribute to how we see them. You don't just have to wear shades on your face, but can also use them as a headband or casually hung in the V-neck of our shirt. Eyewear emphasises whatever look we're going for and gives our appearance that little something extra!
Why VOOY?
The four letters that will change your everyday life stand for "Vision Of (the) Other You" and refer to the diverse aspects of our personality. We believe in your imagination and your ability to redefine yourself. Be prepared for different situations, whether it's meeting a new client or making a cool impression when you meet people from all over the world at the next festival.
With the VOOY double pack you get two different pairs of sunglasses in one go, so that even when you spontaneously change "roles", you have the right accessory at hand to accompany your current mood. When putting together your 2-piece set, you can choose freely from the entire VOOY range and you only pay for one pair and get the second pair for free. You can also combine sunglasses and prescription glasses in your set.
Perhaps you're leaving the beach and getting in the car? Then put your VOOY sunglasses in the glove compartment and put on your VOOY prescription glasses. With the double pack you are prepared for every setting.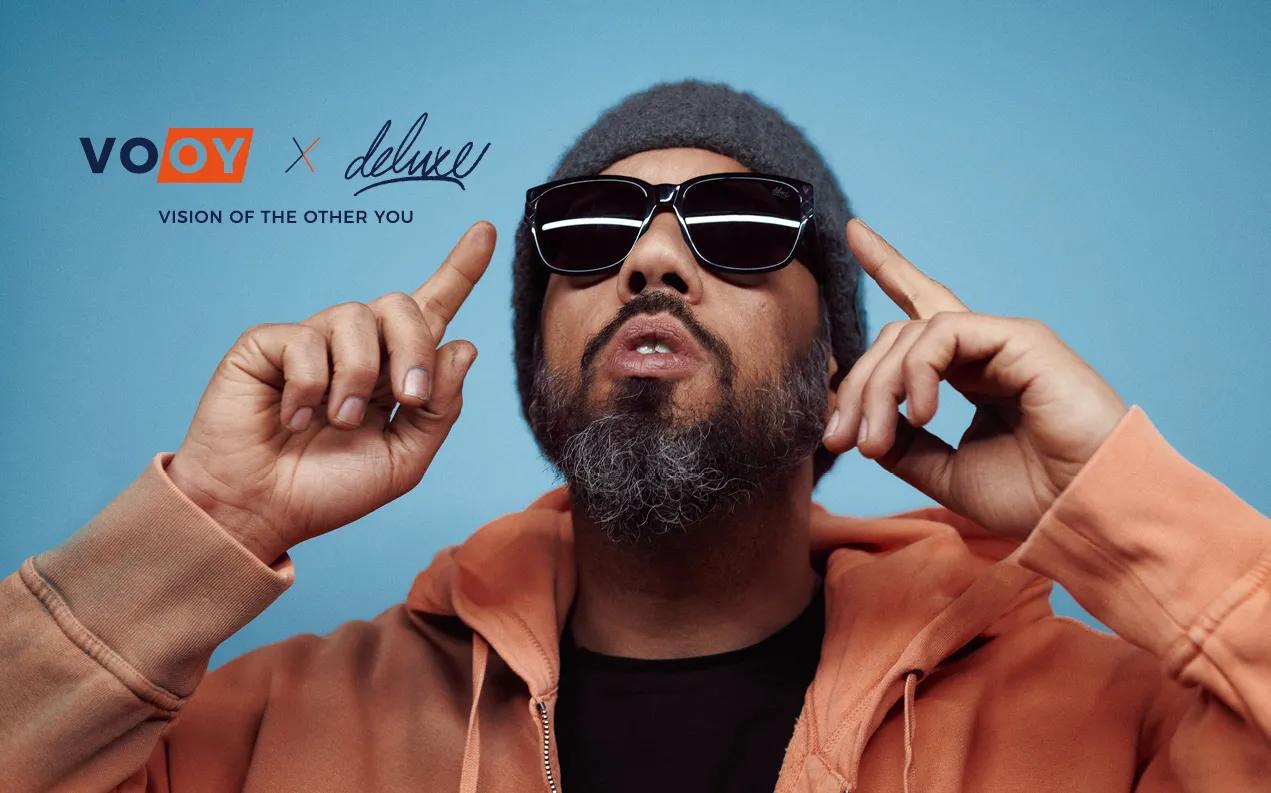 VOOY Deluxe Eyewear
For the launch of the new VOOY brand, Edel-Optics has come up with something very special. The launch is being honoured by none other than rapper veteran Samy Deluxe. More than that: the creative genius, who is one of the most commercially successful German rappers with over one million sold recordings, not only acts as a testimonial for wearing glasses, but was fully involved in the whole design process of the first VOOY glasses collection. Together we created the collaboration VOOY x Deluxe, which includes four unisex models that are available as both sunglasses and glasses. The fresh styles bear the names DAY OFF, FREESTYLE, SHOWTIME and STUDIO SESSION and reflect the colourful life of the Hamburg-based multi-talent in four different colourways.
DAY OFF
Take a break, have a DAY OFF! This model is perfect for you if you want to hit the off-switch and just chill. Put on your pair of VOOY Deluxe DAY OFF glasses or sunglasses and go straight into chill mode. The large lenses allow you to stroll incognito through the city centre, without having to meet anyone's gaze. This browline style is made to impress with its classic form and a touch of modernity that makes it stand out from the crowd.
FREESTYLE
Creativity without rules and spontaneous expression without limits - that's freestyle. This VOOY style not only lives the free spirit, but also rubs it off on their wearer. That's why the VOOY Deluxe FREESTYLE is the perfect accessory if you refuse to conform to dress-codes and want to give your style free rein.
SHOWTIME
Ready, set, go! Not everyone likes to be in the limelight, but if you're a spotlight hog, this VOOY Deluxe frame is your showpiece. The dynamic design with elaborate engravings ensures that you stand out from the crowd anywhere. Especially with its daring colour combination of camouflage and light blue, the VOOY Deluxe SHOWTIME is best suited to bold personalities who want to attract everyone's attention.
STUDIO SESSION
For Samy Deluxe, studio sessions are just one of many ways to pass the time. The rapper is just as happy on stage or in front of the concept wall as he is in the recording booth. Indeed, the vibes are always the same. And to get into the right mood, the seasoned hip hopper often wears the VOOY Deluxe STUDIO SESSION. This round frame is a great all-rounder and so on-trend that it suits everybody's taste. After all, the session is wherever you make it.
VOOY Eyewear
Since the brand's first collection was wonderfully received, the second collection offers an even more extensive range that is as diverse as people are themselves. Glasses and sunglasses in a wide variety of designs allow for a multifaceted range full of different shapes and colours. A total of 60 variations per category result in a huge number of options that are available as prescription glasses and sunglasses, allowing even the biggest fashionista to explore many different looks.
AFTERWORK
Tie off, glasses on! When the end of the day approaches and you can finally take off the work outfit you put on each morning, you can also relax your eyes. The VOOY Afterwork with its modern panto shape is the perfect accessory for after work when you want to show that you are not only defined by your job.
PRESENTATION
In a presentation, it's all about how you sell yourself. It doesn't matter whether you're offering gems of wisdom or spieling random rubbish, as long as your look fits the bill. With the right appearance, everyone will buy it. If you want to make a serious impression, you can't go wrong with the VOOY Presentation.
DINNER
No less important is the (first) impression you make at a significant dinner. Whether it's business or with the potential in-laws - it's important not to overdo it. The VOOY Dinner with its discreet, thin metal frame is a guarantee for an appropriate appearance.
CLUB ONE
"I wear my sunglasses at night", you could be that guy... but you could also be someone else. Because like all VOOY models, the VOOY Club one is also available as prescription glasses. With their thick frame, they add the cherry on top of your look without being overpowering. So, you can catch the eye of partygoers in the queue outside the club and don't have to worry about the bouncer saying "only regulars today"!
MEETING
We often think to ourselves at meetings, "this could be written in an email!" Yet many of us still have to attend meetings from time to time. And when you do get together with your colleagues, the mutual checking each other's outfits out is as certain as the "Amen" in the church. So make your look the topic of conversation in the coffee kitchen and shine with the VOOY Meeting. No glasses embody the business look better than this browline model.
INSTAMOMENT
If you don't shy away from looks and like getting appreciative likes on social media, you need glasses that stand out from the crowd. The VOOY Instamoment provides you with the perfect motif to make the digital thumbs and hearts rain down. Put them on and shoot the #picoftheday with the #OOTD and the matching glasses.
HOMEWORK
Who doesn't know: "first the work, then the fun!" We turn this motto around. Because even before we sit down at the laptop to work through our long to-do lists, we can ensure the fun factor with the VOOY Homework model. These rectangular acetate glasses are incredibly comfortable to wear for long periods of time and look good too.
DESIGNCHALLENGE
Design challenge accepted! With this beautiful butterfly frame, no-one has to shy away from competition, quite the opposite! The extravagant design with the fine double frame wins every contest easily and suits every feminine style. Whether you're a catwalk model or a home bird, the VOOY Design Challenge shows off your good taste.
ARTMUSEUM
Taste is a matter of debate, as we all know. Some people have good taste, others only pretend to have it. Just as in art museums, where true connoisseurs always jostle with impostors, in fashion only a few people have a real feel for aesthetics. For precisely these fashionistas, the VOOY Artmuseum is made for them. However, you have to be bold enough to wear these statement glasses!
CABRIOLET
If you want to go big in your convertible, you usually not only rev the engine, but also put on a cool pair of sunglasses to protect yourself from the sun's blinding rays when you open the convertible roof. If you see the VOOY Cabriolet in your mind's eye when you think of this situation, you are exactly right. As sunglasses, they are as much a part of the joyride in a convertible as the hair blowing in the wind.
Order VOOY Sunglasses and Glasses Online
To find your perfect pair of VOOY glasses or sunglasses, you can use the 3D Online Fitting. You just need a camera on your laptop or phone and after clicking the "Online Fitting" icon below the product image, the glasses will be projected on top of your video image! Once you have found out which shape frame suits your face shape and what colour suits you, the digital optician form will guide you through the process of choosing and ordering your VOOY sunglasses with prescription lenses. You can also choose custom lenses, such as mirrored, polarised or photochromatic in the customisation section. Your decision depends entirely on your taste.
Once you've found your favourite model, you can order your VOOY sunglasses online at a low cost. Should you happen to not like your sunglasses when they arrive, you can send them back free of charge with our free returns within 30 days system. Only VOOY Sunlasses with diopters or individually manufactured lenses cannot be reimbursed, unless there are technical defects. If you have any questions, please contact our Customer Support by telephone via the local telephone number or social media.
Services
With us you can buy exclusive sunglasses and glasses from VOOY at top-value prices online. You can reach us by e-mail or by calling the local landline number at the top of the page and we will do our best to answer all your questions. We'll help you with the ordering process, handling of returns or any other questions you may want to ask. If you have a last-minute "sunglasses emergency" and need the right accessory for the beach party at the weekend, you can have your order in your hands the very next day via Express Delivery. Besides the common payment methods we also offer you a convenient order on account.
We Specialise in Eyewear for Fashion-Lovers
At Edel-Optics, we are all about fashion and our motto SEE AND BE SEEN truly comes from the heart. Our goal is to provide easy access to high quality prescription glasses and sunglasses to as many people as possible. You can also find many interesting topics such as current summer trends on our Blog as well as general eyewear advice on our Master of Glasses page. Here, you can also learn how to properly clean or repair your glasses. Find us on Facebook or Instagram to stay up to date with the latest trends and make the most of any special offers, competitions or vouchers we have available. For reduced price glasses, don't forget to check out our Sunglasses Sale. You can also check out our other celebrity brands such as Jérôme Boateng, Guido Maria Kretschmer, Sylvie Meis and Dieter Bohlen. Just drop by and find out what these celebrities and other brands have to offer!